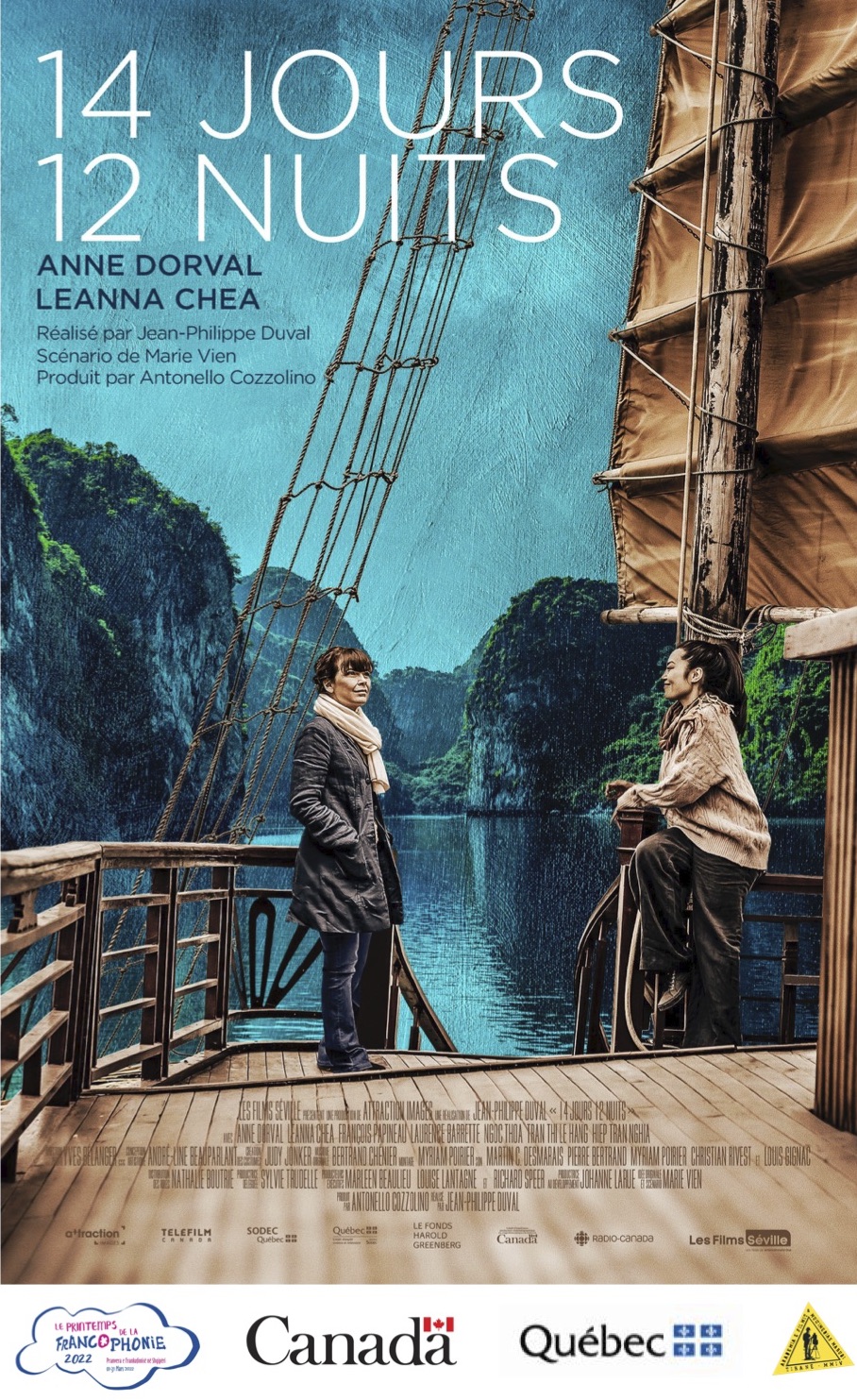 03 Mar

Francophonie 2022 – 14 jours, 12 nuits de Jean-Philippe Duval
🇫🇷 CINÉMA 📽 Cycle « cinéma des Pays Francophones »
Vendredi 18 Mars à 18h00
« 14 jours, 12 nuits » réalisé par Jean-Philippe Duval
(2019 – 1h39 – drame)
14 jours 12 nuits nous emmène dans l'univers d'Isabelle Brodeur (Anne Dorval), une océanographe qui s'envole vers le Vietnam, pays d'origine de sa fille adoptive Clara. Son pèlerinage la mènera sur les traces de la mère biologique de sa fille. Isabelle retrace ainsi Thuy Nguyen (Leanna Chea), qui travaille comme guide touristique pour une agence de voyages à Hanoï. Tiraillée entre la peur et un désir viscéral de rencontrer cette femme, Isabelle s'inscrit à un tour guidé privé offert par Thuy. Dans cette escapade routière d'une beauté saisissante, Isabelle découvre le pays de sa fille à travers les yeux de la femme qui lui a donné la vie. Sur le chemin, les deux femmes finissent par se révéler l'une à l'autre. 14 jours 12 nuits traite de l'influence des traditions, de l'identité, de la perte et du pardon, et raconte l'histoire d'une amitié extraordinaire entre deux femmes unies par l'amour qu'elles ont pour un même enfant.
En français sous-titré anglais / En partenariat avec l'Ambassade du Canada en Italie

Entrée gratuite
---
🇺🇸 CINEMA 📽 Cycle « Cinema from Francophone countries »
Friday 18 March at 6 pm
« 14 days, 12 nights » directed by Jean-Philippe Duval
(2019 – 99 min – drama)
Isabelle Brodeur embarks on a journey to Vietnam, her adopted daughter's birthplace. Her path leads her to the woman who was once her daughter's nanny. Doing so, Isabelle learns the existence and whereabouts of her daughter's biological mother. Throughout this stunningly beautiful journey, Isabelle discovers her daughter's country through the eyes of the woman who brought her into this world. This pilgrimage of sorts, leads the two women to unveil their innermost secrets.
In French subtitled in English / In partnership with the Embassy of Canada to Italy

Free entrance