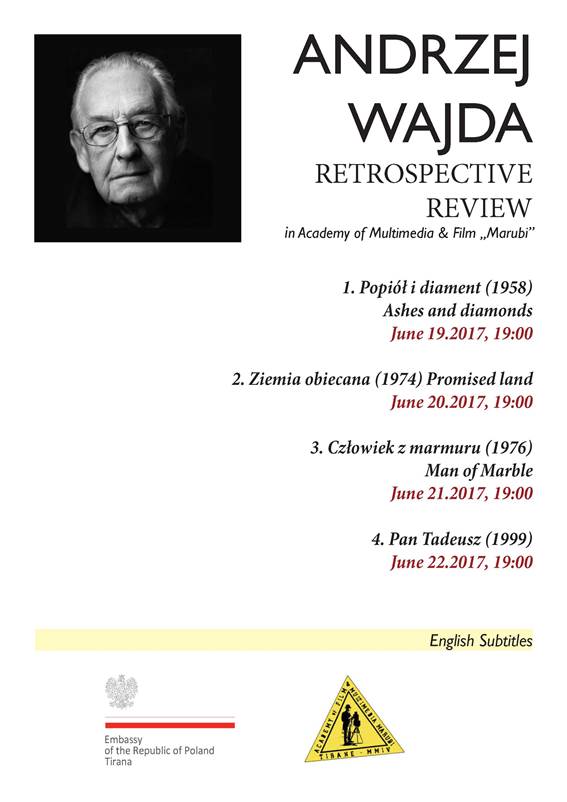 13 Jun

Film Evenings in Homage to ANDRZEJ WAJDA

Ambassador of the Republic of Poland, Karol Bachura, & Rector of Academy of Film & Multimedia "Marubi", Kujtim Çashku, invite you for a Film Evenings in Homage to
ANDRZEJ WAJDA (1926-2016)


Academy Award-winning director; the most prominent filmmaker in Poland – was born on March 6, 1926, in Suwalki, Poland. His mother, Aniela Wajda, was a teacher at a Ukrainian school. His father, Jakub Wajda, was a captain in the Polish infantry. Wajda described his childhood as a happy pastoral country life before the Second World War. In 1939, Poland was invaded by the Nazi Germany and Soviet Union. In 1940, Wajda's father was killed by Stalin's agents in the Katyn massacre.

Young Wajda survived the Second World War with his mother and his brother in the Nazi-occupied Poland. In 1942, Wajda joined the Polish resistance and served in the Armia Krajowa until the war ended in 1945. In 1946, he moved to Krakow. There Wajda went to the Academy of Fine Arts. He studied painting, particularly the impressionist and post-impressionist painting, and was especially fond of Paul Cézanne. From 1950-1954, he studied film directing at the High Film School in Lodz under directors Jerzy Toeplitz and Aleksander Ford. Later, Wajda described the influential and eye-opening experience from seeing French avant-garde films, like Balet mechaniczny (1924) by artist-director Fernand Léger.

In 1955, he made his debut as director of full-length Pokolenie (1955), about the generation of youth coming of age during the Nazi occupation of Poland. His award-winning Kanal (1957) and Popiol i diament (1958) concluded the trilogy about life in Poland during WWII. Although he was under pressure from the Soviet-dominated Polish authorities, Wajda positioned himself as an artist who was above the conflict. He still managed to show the undeclared civil war between two anti-Nazi Polish forces, which were divided by political ideology: the Polish communist and the partisans — folk heroes of the Home Army.

His Oscar-nominated Ziemia obiecana (1975) was a work of multi-layered allegory and Symbolism. Wajda's witty depiction of the 19th century capitalism in Poland actually alluded to the contemporary Communist politics. The shooting of workers in the final scenes was actually unmasking of the official politics of killing workers in the Soviet Union in 1962, under Nikita Khrushchev, and in Poland a few years later.  The story of a film student who traces the life of defamed "hero" in Czlowiek z marmuru (1977) was a deconstruction of the false impressions that official propaganda was using to brainwash the public. The same main characters in Czlowiek z zelaza (1981) continued unmasking the Communist regime's manipulations against working class people. In 1981, Wajda joined the "Solidarity" labor movement of Lech Walesa.

From 1989 to 1991, Wajda was elected Senator of the Republic of Poland. From 1992 to 1994, he was Member of Presidential Council of Culture. In 1994, he founded the Centre of Japanese Art and Technology in Krakow, and was awarded the Order of rising Sun in Japan (1995). Wajda was President of Polish Film Association (1978-1983). He was Member of "Solidarity" Lech Walesa Council (1981-1989). He won an honorary Oscar (2000) for his contribution to cinema, and an honorary Golden Bear (2006) at the Berlin Film Festival.

Wajda's Katyn (2007) was nominated for Oscar for Best Foreign Language Film of the Year in 2008, and received many other awards and nominations. The film shows historic events in Katyn during WWII, where Wajda's father was among thousands of Polish officers killed by  Soviet communists under the dictatorship of Joseph Stalin. Wajda's film was well received by the last Soviet leader, Mikhail Gorbachev, who initially opened the facts about Katyn to help people understand each other and overcome the tragic past.

"We never hoped to live to see the fall of the Soviet Union, to see Poland as a free country", said Andrzej Wajda.