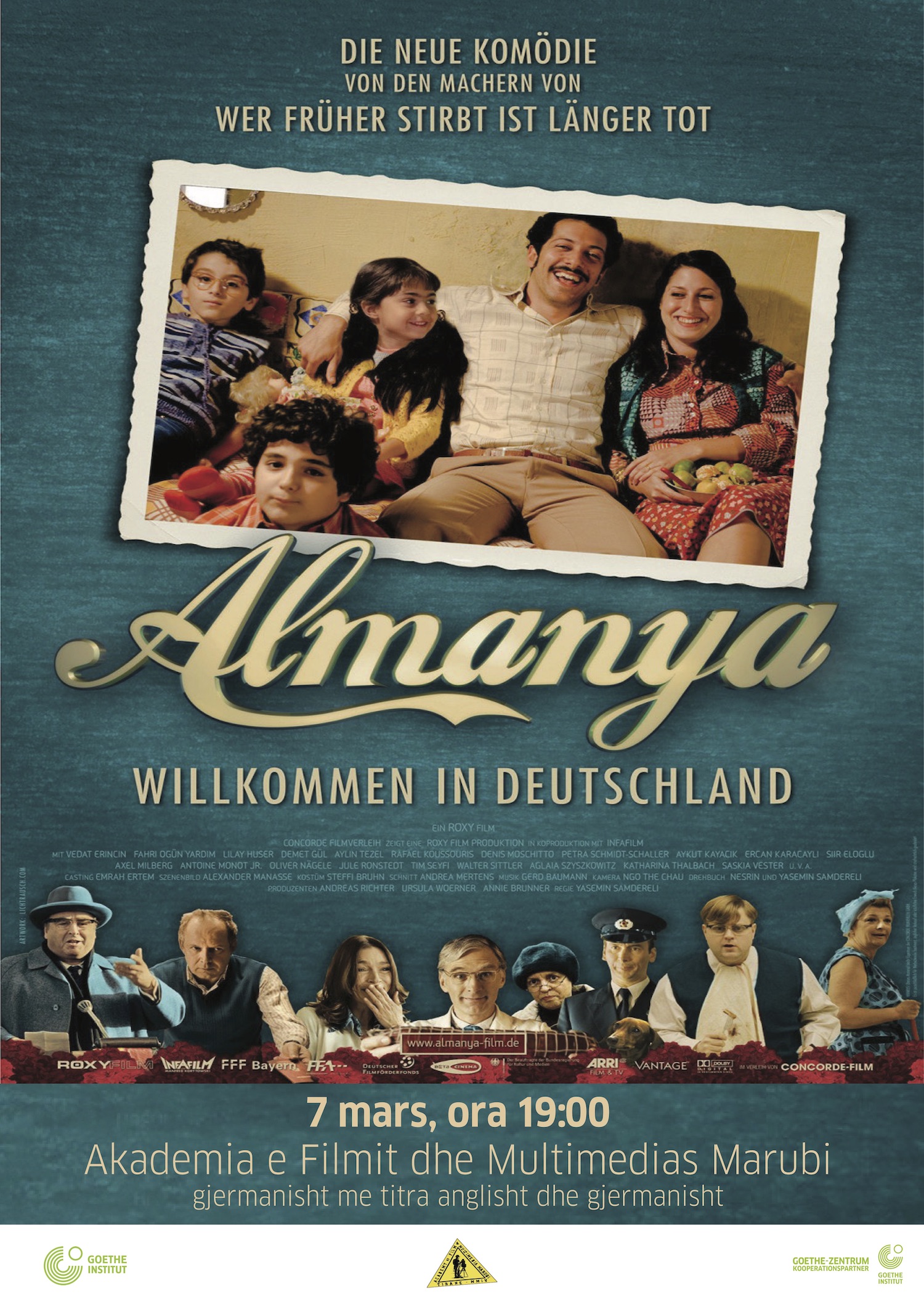 27 Feb

Almanya by Yasemin Samdereli
In cooperation with the Goethe-Zentrum in Tirana
Almanya – Welcome to Germany

Directed by Yasemin Samdereli
100 min – 2011
In German with English subtitles
---
Hüseyin Yilmaz came to Germany from Turkey in 1964, and later brought his wife and children. With warmth and a sense of humour, his granddaughter recounts their family history – whilst the clan is "back home" on holiday. Where their real home is, is a question they are all confronted with.
Cast: Vedat Erincin, Fahri Yardim, Lilay Huser, Demet Gül, Rafael Koussouris, Aylin Tezel…
Synopsis: Hüseyin Yilmaz came to Germany in 1964 as an Anatolian guest worker. Shortly before he is about to be naturalized, he realizes he is not sure he wants to become a German citizen. Unexpectedly, he reveals to his wife, children and grandchildren that he has bought a house in his old hometown and that he expects them to go there and help him renovate it. Reactions are mixed. Hüseyin reassures everyone that he only wants to use it as a holiday home; that he does not want to return there permanently. Canan is afraid to travel; she is pregnant and neither her parents nor her grandparents know. Episodes from the past are meshed with those from the present. Canan tells us how her grandfather eloped with his wife, how he left for Germany to be able to support his wife and children; how he later fetched his family, and what problems he was confronted with upon his arrival in Germany; how the family took their first holiday in Anatolia together and the first signs of alienation. Canan reminisces about the past while the extended family travels to Anatolia again…
ALMANYA – WELCOME TO GERMANY is an extraordinary contribution to the current German debate on integration, played out by two young women who were able to weave their personal experiences into the story. Depicting identities that evolve slowly, the film reflects on the difficult question of what we call "home" – a question for which there are many different answers. "Are we Turkish or are we German," asks little Cenk, unsettled by his classmates' reactions – and confused, because there is no space for Anatolia on the large map of Europe in his classroom.
The film has received 11 wins & 5 nominations in International Film Festivals.

informacion në shqip